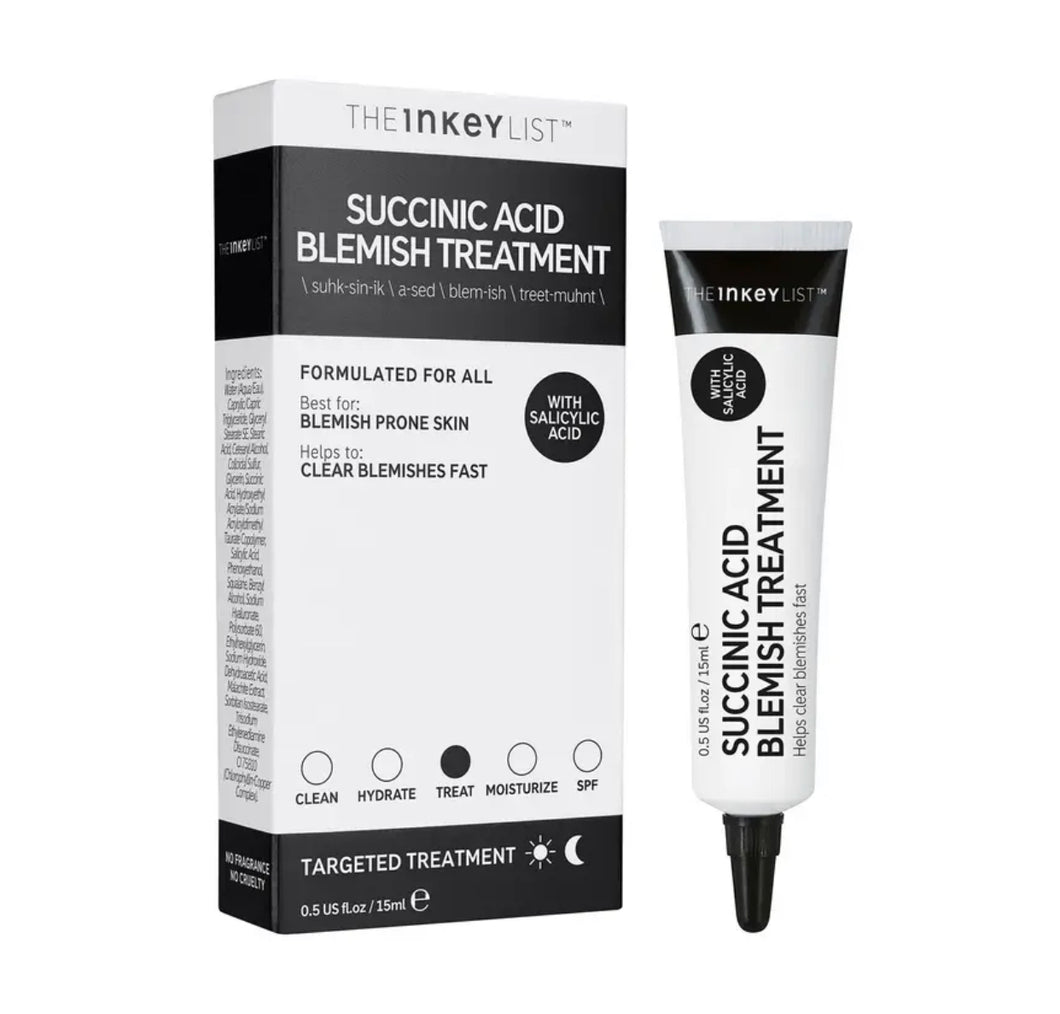 The INKEY List Succinic Acid Treatment 15ml
Regular price ₦12,000.00 Sale
Clear blemishes fast, reduce inflammation, and prevent clogged pores with this non-drying, gentle, and targeted treatment with The INKEY List Succinic Acid Treatment. With a cream formula, it is easily layered under makeup without drying or flaking.
As well as treating active blemishes, the 2% Succinic Acid has a gentle peeling effect to gently exfoliate the skin and clear pores, whilst also helping prevent them from clogging again after use.
Combined with 2% Sulfur and supporting Hyaluronic Acid, this works to reduce excess oil, and unclog pores whilst hydrating the skin. With the added benefit of 1% Salicylic Acid, this targeted treatment will help shrink blemishes and blackheads whilst remaining gentle on the skin.

Key ingredients: - 2% Succinic Acid; 2% succinic acid helps reduce blemish size and decrease oil levels - 2% Sulfur Powder; Reduces excess oil without drying the skin and helps unclogs pores to help reduce future breakouts. - 1% Salicylic Acid; Gently exfoliates the skin reducing dead skin cell build up whilst helping to shrink blemishes and blackheads. - 0.4% Hyaluronic Acid - Hydrates the skin.
The INKEY List Succinic Acid Treatment has a green coloured formula that is obtained from a natural chlorophyll derived plant pigment. Due to the different weather conditions and seasons the plant is exposed to, the shade of the product formula you use may vary in brightness. This does not affect the efficacy of the 2% Succinic Acid formula to reduce the appearance of blemishes fast.
the INKEY list succinc acid acne treatment is available in Lagos, Nigeria