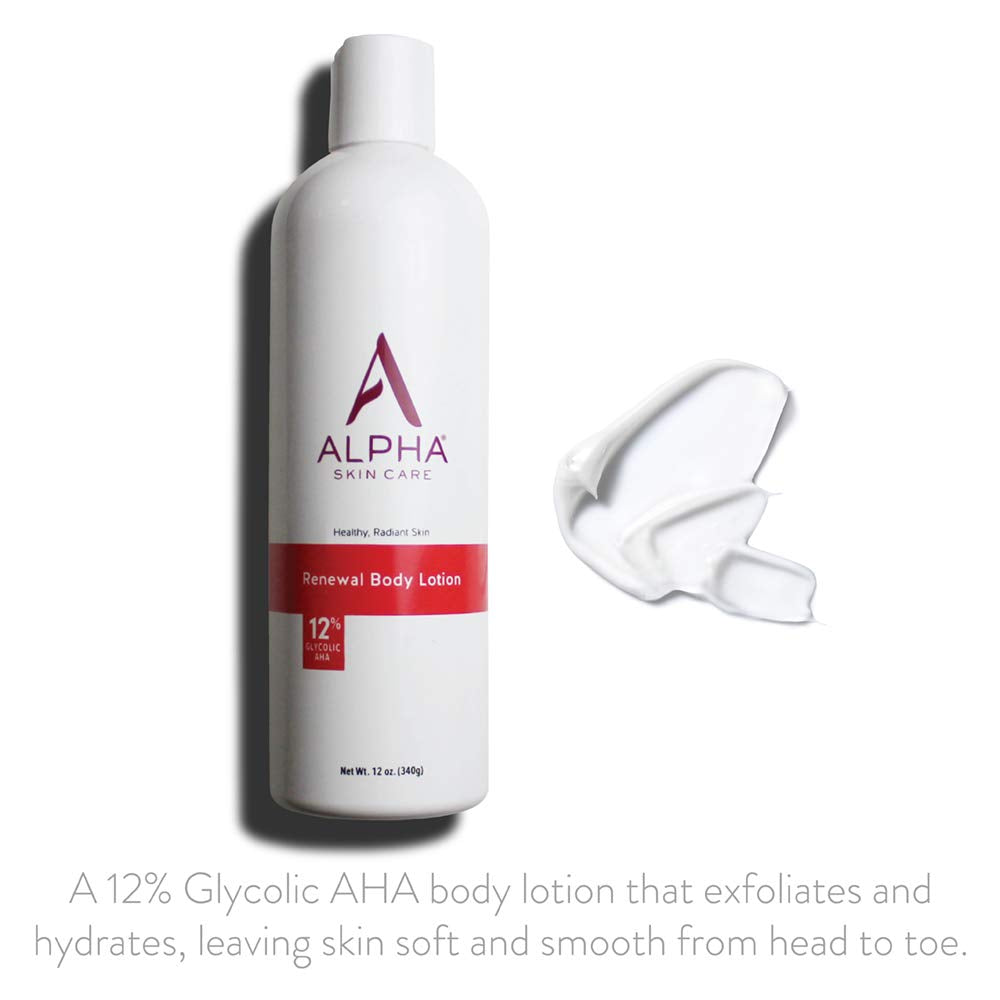 Alpha Skin Care Renewal Body Lotion
Regular price ₦27,000.00 Sale
ALPHA SKIN CARE, Naturally powerful anti-aging formulas for real results to reveal younger-looking skin now. We have a rich history of offering products that deliver high quality and proven results. Our skin and hair care products are embraced and respected by both consumers and medical professionals.

ANTI-AGING DAILY ROUTINE: Following an effective anti-aging skin care routine promotes cellular turnover and skin renewal to achieve a balanced, glowing complexion. Our four step routine - cleanse, renew, moisturize and protect – is clinically proven to reduce the appearance of lines and wrinkles and fade dark spots caused by aging and sun exposure.
CLEANSE: A cleanser is the most basic step in any skin care routine. Our face wash and toner naturally cleanse the skin and restore ideal pH levels to reveal a fresh, soft complexion.
RENEW: Lifting away dull, dead skin cells is key to renewal. Our anti-aging products gently polish skin, allowing ingredients to quickly penetrate so new healthy skin can emerge.
MOISTURIZE: A daily moisturizer helps to nourish and improve your skin's health. Our moisturizers hydrate your skin quickly, leaving it feeling smooth and refreshed for hours. Create your healthiest skin ever with our naturally powerful ingredients.
Sunburn Alert: This product contains an Alpha Hydroxy Acid (aha) that may increase your skin's sensitivity to the sun and particularly the possibility of sunburn. Use a sunscreen, wear protective clothing, and limit sun exposure while using this product and for a week afterwards. Caution: Avoid contact with eyelids and eyes. If contact occurs, rinse thoroughly with water. Keep out of reach of children.
Alpha Skin Care Renewal Body Lotion Is available in Lagos, Nigeria 
Features & details
Anti-aging skin care: Our body lotion is formulated with the optimal balance of 12% Glycolic Alpha Hydroxy Acid (AHA) and a pH level of 4.0; AHA encourages reduces the appearance of lines and wrinkles

Radiant skin: Our anti-aging cream's exfoliating formula gently lifts away dead skin cells so new, healthy skin can emerge; your skin will immediately feel smooth and fresh; over time, you will see a more radiant, even skin tone

Powerful ingredients: Paraben and fragrance-free; Alpha Skin Care uses essential, natural ingredients with clinically-proven results to reveal healthy, younger-looking skin

Packed with vitamins & nutrients: Leave your skin feeling soft and smooth; vitamins and nutrients combined with anti-aging ingredients enhance the benefits you'll see and feel

Directions: Apply to desired areas of clean skin, and do not rinse off; may be used morning and evening; for daytime use, we recommend also applying a sunscreen; first-time users should do a patch test